All-Natural Handmade Bath & Body Products for sensitive skin. Your skin deserves synthetic and chemical free products, Natural that's all!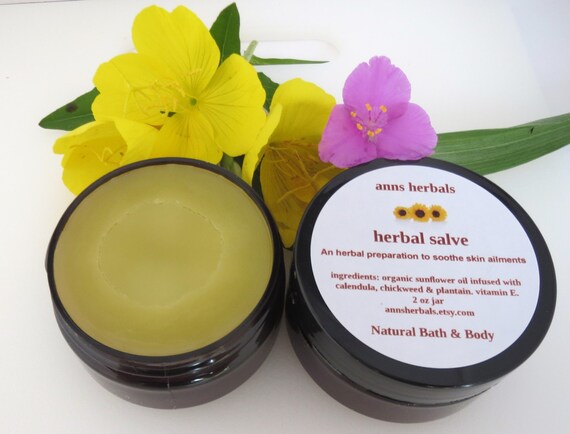 This All-Natural Herbal Salve is made by Ann from Ann's Herbals.
Visit her shop at

https://www.etsy.com/shop/Annsherbals.

What is your favorite item from Annsherbals? We'd like to know!
1.Tell me a little about yourself.
I have been formulating herbal products since 1995, I live in Waldo Wisconsin with my Partner Scott and our 2 cats Lilly & Leo. I have 4 wonderful children, now adults, whom have enriched me immensely.
2.Where does your inspiration come from when crafting?
My inspiration comes from nature. I have a favorite quote that I live by, " I go to nature to be soothed and healed and to have my senses put in order." Plants give us so much, I enjoy creating and putting a piece of them in each product I make. I know they appreciate the tribute and after all it's one of their reasons for being, to nourish and heal us.
3.Who taught you and how did you learn to craft?
I studied Natural Health in College which inspired me to make my first herbal product, my herbal salve. In one course of study the class had to make something with the herbs studied. At this time I had extremely aggravated eczema so I was determined to find something natural to help with that. I did find three herbs, Calendula, Chickweed & Comfrey. I found them right in my own backyard! I made a salve with them and had my hands healed in three days! I was truly convinced of the power of nature and I have not stopped learning about that power ever since. My sensitive skin prompted me to created products FOR sensitive skin. Six years ago my son Ryan taught me how to make soap. He started making and selling soap for extra money while in college. From the first batch I made I was hooked. What a feeling to see such a transformation, I found the whole process amazing and incorporated my herbs into the soap making process.
4. Any Specific Tips you have for newbie crafters starting a business in etsy?
Be organized plan your time, don't get discouraged, a business doesn't grow over night, it needs nurturing and your passion for what you make will see you through the tough times. But don't be "all consumed by it either", you still have a personal life to nourish also.
5. Name 3 websites you couldn't live without.
Three websites I couldn't live without, hmm I would say Amazon, Mountain Rose Herbs and Jedwards.
6. What are your 3 favorite shops and why.
There are many fine shops on Etsy, I would hate to be limited by 3 but here are a few.
. Twisted Sticks, APrincessAndaBee and The Retired Quilt. They make amazing fabric and knit items, I admire their creativity and skill. These are things I don't make and have great respect for those that do.
I want to mention Spice Grove Designs also, Charlotte's creativity with the use of spices is awesome and inspiring!
7. Where do you see your crafting business in 10 years?
In ten years I will find my business winding down a bit, I will be in retirement but will keep creating and being inspired.