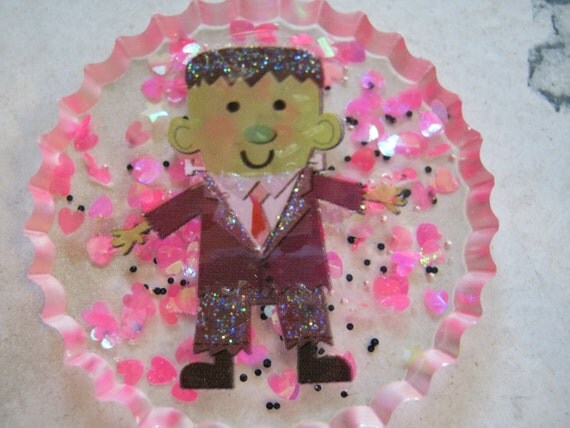 This
Halloween Frankenstein and Pink Hearts Resin Cabochon
was made by Jansbeads.
1.Tell me a little about yourself.
Born and raised in Los Angeles the traditional Mexican culture of Day of the Dead has always been with me. The colors, sights, sounds, and beautiful acceptance of death as really never losing a loved one stays in my heart always. Halloween, Steampunk, and Gothic jewelry styles seem to fit right into this mood, fun, historic, and beautiful. Having been a law librarian for many years when I retired my brains right side kicked in and I started to play around with making jewelry then expanded that love of creation into other aspects of the jewelry craft, resin, wire work, silver work, and even a little polymer clay.
2.Where does your inspiration come from when crafting?
My inspirations come at 2 a.m. in the morning after a very busy day of doing something dull! Really, they come from what I see, hear, and dream. Rarely from what is "in style."
3.Who taught you and how did you learn to craft?
About 15 years ago my cousin and my aunt got me into jewelry making. I learned so much from them. Of course I have taken, and taught, classes. A lot of what I do is self learned as I go. And a lot is shared with a jewelry making best friend each Wds.
4. Any Specific Tips you have for newbie crafters starting a business in etsy?
I pretty much make and sell jewelry for fun. All I can say is to stay with it and to keep growing with your craft. However, create what makes YOU happy. I know that if I make a piece of jewelry and it makes me smile or laugh then it is just right.
5. Name 3 websites you couldn't live without.
Not really being a web user the only site I can live without is Twitter. What the heck is that? Can I mention a site I love and would really like you all to discover....
HalloweenArtistBazaar.com
run by and includes some of the most talented artists I have ever seen.
6. What are your 3 favorite shops and why.
So many on etsy... just look at the team Halloween Artist Bazaar, HAB, and I would have to put everyone of those talented and creative artists on this list.
7. Where do you see your crafting business in 10 years?
I hope to be alive and still be making jewelry. I can only dream of being real famous by then.