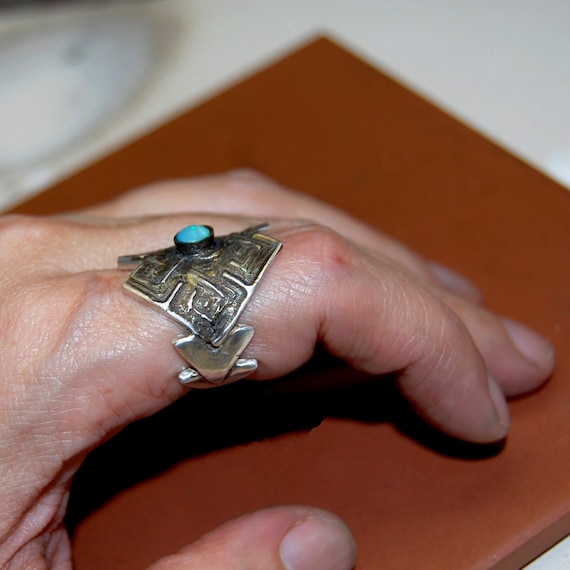 Fine Silver w/Black Opal Ring "Navajo Blanket" Inspired Design by Giftbearer. Tribal style jewelry you won't find elsewhere; Sterling, bali and Hill Tribes silver, Copper flowers, brass, PMC, bezel-set Chrysoprase, Rainbow Moonstone, Freshwater Pearls, bead-woven, crochet, embroidered, felted, handmade chain, mixed media, bezel-set, wire-wrapped...
"Mostly of Iroquois indian descent, I'm inspired by nature, animals, tribal shapes and symbols, and have been creatively inclined ever since I was a young child, composing music, drawing, painting, and writing. As a child used to catch butterflies and ring neck snakes in the woods behind my house in Baltimore, Maryland, and take care of baby birds that had fallen out of their nest until they were able to fly.
At age 11 I went to my first gem and mineral show where I was captivated by all the beautiful natural crystals, unique fossils, and minerals, and watched a man forming and polishing a cabochon. That experience stuck with me and I began making necklaces out of natural materials like walnut shells glued back together with little stones rattling around inside them, birch bark earrings, and fiber jewelry of various types and sold it to people in the neighborhood.
I did other things for awhile and then when my son was about 9 months old I was trying to decide what I wanted to do for a living. My first thought was to get into artisan furniture-making but the only school for that trade was too far from where I lived and not accessible. I have always loved wood, so the idea occurred to me to make wooden jewelry, so for several years I polished, cut, laminated, painted, drilled, and assembled wooden jewelry and sold it on the street.
There were a number of other techniques I wanted to learn so I took a class in bead weaving, and later attended the Atlanta Jeweler's School and Studios where I learned metalwork techniques.
or a number of years I sold my work in about 10 shops in the metro Atlanta area until the economy put most of them out of business.
Then I found Etsy through an organization that was looking for art donations to benefit survivors of Hurricane Katrina, tried listing a few greeting cards of my paintings in their shop, and since they sold pretty quickly I decided to open a shop of my own there for my jewelry.
I have been making jewelry now for about 30 years.
I could parrot the mantra you hear so often on Etsy in various forums about how to get results; "take good pictures, tag and title things for relevance, join teams", etc, etc...and I do use those methods but in all honesty I haven't found them to be all that effective. There are sellers with horrible pictures who sell like crazy, and those with professional quality photos with no sales and their items collecting dust. There are shops with almost no info provided in their title or listing who make lots of sales, and those with meticulously written listings whose items just sit there (This counterintuitive phenomenon never ceases to amaze me).
Nothing is more disappointing than getting tons of views yet still no sales. If alot of people view your work but don't buy it, then the wrong people are viewing your work!
Etsy is just too vast and one seller there is really a drop in the bucket. It's too easy to get lost and buried in the mountain of listings and stampede of sellers all trying to climb to the top at the same time. The real key seems to me to drive the right traffic (people who really want what you're offering and are ready and willing to buy it) from "out there" to "in here."
When I first opened my shop I was not very web savvy, but since then started a blog
artlifenewsblog.blogspot.com
.
I have found that having a blog is very important if you sell things on Etsy because blogs often have a higher search rating than Etsy shops themselves (partly due to the fact that backlinks are clickable), and partly because Etsy is an umbrella site, so it's not picked up by search engines as readily as a free-standing website because of the way it is coded.
Blogs are a very good way to drive targeted traffic to your shop because unlike Etsy's search system the point of entry as soon as people read the blog is your shop rather than a broad category including all your competitors. If they like what they see customers can go to your shop or an item in particular and buy it in just a few easy clicks, check out quickly with Paypal, and be done; easy, peasy!
If you don't have lots of money for advertising blogs are a great way to promote your work (and in my opinion more effective than Facebook, Pinterest, or Twitter).
Youtube is another wonderful way to promote your work. Creating videos showing what you make and have for sale, and/or tutorials has the ability to reach potential buyers you might not find on Etsy directly, or on other sites where you might market your wares. It's great for branding. This is a video I created featuring my Rainstick Necklaces;
www.youtube.com/watch?v=wE8z9JHhyqw
Music corresponds with the style of the jewelry to set the mood.
After a few years on Etsy selling jewelry I opened a second Etsy shop,
GiftbearerSupply.etsy.com
to sell to the trade, as a means to supplement my jewelry sales. My supply shop meets the needs of niche markets and offers other jewelers things they need. Offering items that others don't offer is important in a huge marketplace like Etsy and during a tough economy whatever items you can offer that people need rather than just want is an ace in the hole.
3 websites I couldn't live without are Listia, The World of Ball Pythons, and Youtube.
My 3 favorite Etsy shops;
www.etsy.com/shop/Jopanda
www.etsy.com/shop/dogartstudio
www.etsy.com/shop/FeltedFantasies
In ten years (and hopefully before) I would like to take a trip to the Southwest and develop good working relationships with several high end Southwestern shops/galleries arranging for regular monthly purchases of pieces of several of my jewelry lines such as the Rainstick Necklaces, Softies Bracelets, and Broken Heart Necklaces and be able to live comfortably into my golden years from the income generated.
I would also love to be able to go to one of those artist retreats where people take intensive classes over a weekend or even several weeks (something I have never had the money to do thus far). There are so many techniques I would love to learn, and the great thing about jewelry is that there are more methods than one can learn in one lifetime!"