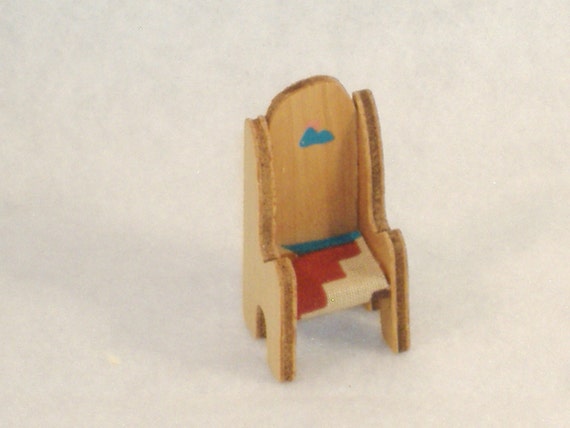 This Miniature Handpainted Wooden Chair can be found Debbi's Vintage.
Visit her shop at
https://www.etsy.com/shop/DebbisVintage.
What is your favorite item from DebbisVintage? We'd like to know!
1.Tell me a little about yourself.
i'm content to have entered my sixth decade and still with the love of my life who i met when i was 18, on my first day of college. our musical life together is still strong - he is my favorite musician and always makes me sound great!
i have 2 children and 3 grandchildren. my son and his bride lives with us in PA. my daughter, son-in-law and 3 grandkids currently live in japan - eek, yes japan. a wonderful experience for those sweet kids, but i do wish they were closer for the occassional babysitting duty
2.Where does your inspiration come from when crafting?
my creations are mostly found in my other shop (debbisdresses) and the inspiration there was my granddaughters - making dresses and costumes for them, then expanding into doll clothes - barbie now, but i'm starting a new line of american doll designs - when i get the time -
the vintage shop is where i am destashing all the craft supplies i've accumulated over the years, thinking i would have so much time to do so many different things. Now i need the space and less chaos of bulging boxes of supplies. And if I didn't have enough of my stuff to destash, I also work at a great little thrift shop and find sweet things there to share - supplies and vintage pretties!
3.Who taught you and how did you learn to craft?
my maternal grandparents (both of them) taught me all about crafting. grandma taught me crocheting, knitting, tatting, sewing, and making bows. grandpa taught me lettering and painting and building, plaster casting working with miniatures and wreath making.
They were incredible at keeping me busy and out of trouble when I was young and staying with them and made it fun
4. Any Specific Tips you have for newbie crafters starting a business in etsy?
for newbies! Be patient and find a team or two to be active in – bns's and bnr's are for me, the majority of my sales.
5. Name 3 websites you couldn't live without.
etsy, google plus, pinterest
6. What are your 3 favorite shops and why.
www.etsy.com/shop/ksewingbasket
- kelly has a great shop and bns – no drama – just friendly competition and support
www.etsy.com/shop/TAKUniqueDesigns
- theresa has been very supportive and helped me many times with advice, virtual "wine", pif's, and purchases. I love her shop and creativity (especially those things she made with my supplies)
www.etsy.com/shop/mightymadgescloset
- madge, my etsy sister. One of my first friends on etsy and has always been a good friend (oh, and we find ourselves buying each others supplies – she has what I'm looking for to finish something and I have what she needs – we used to joke that we should just switch studios)
7. Where do you see your crafting business in 10 years?
in 10 years I hope to be focusing more on creations – my doll clothes and accessories for them – because I hope to be destashed by then – lol